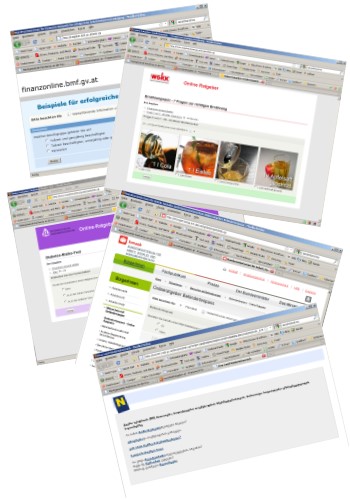 Nice to meet you!
Get help and support from
Sozialversicherungsträger (social insurance)

Land Niederösterreich (government of Lower Austria)

Bundesministerium für Finanzen (ministry of finance)

Bundesministerium für Arbeit, Soziales und Konsumentenschutz (ministry of work, social welfare and consumerism)

Wirtschaftskammer Österreich (Austrian economic chamber)

Standesamtsverband Mödling (civil registry office Mödling)

myonlineRatgeber.at displays the broad coverage of online-expertsystem-software created with the 3i expert framework.
Different situations are handled multilingually on necessity, each institution can demonstrate its topics in a comprehensible way.
Success is proved by six-digit hit rates, satisfied citizens and customers, load relieving of call-centers and cost reductions.
myonlineRatgeber.at and 3i expert are 3i Software® products of