It is not wizardry to build an expert with the framework 3i Expert !
After a first short planning phase prototyping can be started immediately. Direct results promote creativity and after shortest time there is a feasible outcome - without any programming!
Use a single expertsystem with different layout templates and specific request parameters for differing fields of action.
You want your expert multilingual? No problem - have your text modules translated, integrate them - ready for presentation.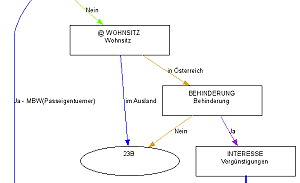 An automatically generated graphical view of the expert (gif or pdf) perfects the software.
3i expert runs on all established web servers, no expensive middleware necessary.